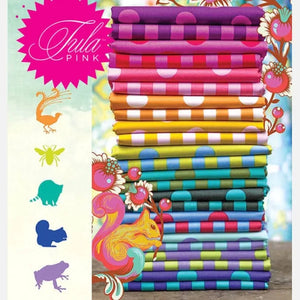 Pom Pom & Tent Stripes True Colors 27 Fat Quarter Bundle by Tula Pink for Free Spirit Fabrics
Pom Pom & Tent Stripes True Colors 27 Fat Quarter Bundle by Tula Pink for Free Spirit Fabrics
27 Fat Quarter Bundle

Fat quarters are approximately 18" x 22".  Each bundle is cut and packaged by manufacturer.
All of our fabric is high quality quilting material purchased from the most respected manufacturers in the sewing and quilting industry. Fabric is stored in a pet free and smoke free studio.
Collection: Pom Pots and Tent Stripes True Colors
Designer: Tula Pink
Manufacturer: Free Spirit Fabrics
Material: 100% Cotton