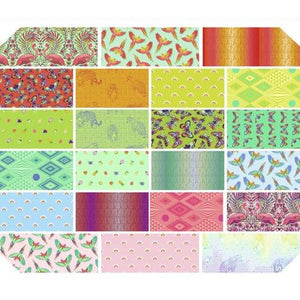 Daydreamer 22 Fat Quarter Bundle by Tula Pink for Free Spirit Fabrics
Daydreamer 22 Fat Quarter Bundle by Tula Pink for Free Spirit Fabrics
22 Fat Quarter Bundle
Fat quarters are approximately 18" x 22"
With this collection, Tula Pink will take you to another place in another world.  Daydreamer is an escape to a surreal place of make believe and wonder. Everything here is light and happy. When first arriving, you will be met by a pair of striped legged Flamingos nibbling on the very shrimp that give them their radiant pink color. Overhead, you will witness a flock of vividly colored Macaws in all of their vibrant plumage soaring through an ombre colored sunset. An array of omniscient butterflies landed nearby and fluttered their soft wings as a sweet welcoming hello. In the tall grass, lurk a family of rainbow Jaguars that sparkle like constellations under a full moon. A panorama of tiny rainbows light up the sky and remind us of the magic that happens when the sun meets the rain. The sweet nectar of tropical fruits bloom all around and are filling the air with fresh sugary delight. Daydreamer is like a soft warm blanket that you can wrap your mind in when it's cold and rainy outside. Are you a Daydreamer too?
All of our fabric is high quality quilting material purchased from the most respected manufacturers in the sewing and quilting industry. Fabric is stored in a pet free and smoke free studio.
Collection: Daydreamer
Designer: Tula Pink
Manufacturer: Free Spirit Fabrics
Material: 100% Cotton